12. December 2006
"Two Worlds" for Hunters and Collectors
+++ Collector`s Edition with sword letter opener and a huge map +++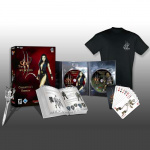 TopWare Interactive has once again pushed the Collector`s Edition envelope with a great new offer! The
tri-lingual Collector`s Edition
(English, French and German) of "Two Worlds" will be put on the European market at 64.99 Euro at the same time as the basic version - and in addition to the game itself, this surprise package has lots of extra goodies – and we do mean lots! First of all, there`s a
miniature metal version of the fabulous "Kilgorin" sword
that appears in the game - it`s 27.6 cm long and quite simply a work of art for an letter opener! Then there`s a
T-shirt
and a
card game
(55 sheets), both with the exclusive "Two Worlds" design - but that`s not all! The magic box also contains a
double-sided poster
in A2 format with a beautifully-worked map and some truly dazzling artwork!
Enough, you say? Uh-uh! TopWare has also included the
"Making of" DVD
in the package - with an
Maxi CD
– and this isn`t just any old soundtrack – it`s a succession of atmospheric masterpieces from the master himself, Harold Faltermeyer! You also get really comprehensive background info on the game - plus
video and photo material
on how "Two Worlds" was created. Value for money, you say? We invented it! Enjoy! Pre-orders are already possible
here
.