17.August 2007
"Two Worlds" for your ears!
+++ Soundtrack for the RPG now available as an album and as a maxi-single +++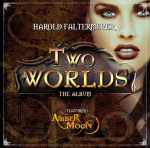 Sometimes it's classically glorious, at other times it rocks unashamedly, then it slips gently into a folksy vein - the "Two Worlds" music will captivate you with exciting sounds in a truly wide range of styles. Want to experience this for yourself? Well, the good news is that the official "Two Worlds" album will soon be available! Performed by top musicians of the MGM Grand Orchestra, the album "Two Worlds" from Harold Faltermeyer featuring AmberMoon will transport you into a fantastic world for more than 70 minutes! There's a maxi-single ("Play the Game") available as well - with a playing time of over 19 minutes. Both CDs will enter the shelves on the 30th August for 14,99 respectively 5,99 Euro.
Incidentally: if you're a registered "Two Worlds" customer, you can get 10% off if you order in the online shop on this site and enter your registration number! The entire list of songs and some audio samples are here for you too!