8.May 2009
Free trip to Antaloor
+++ Second "Two Worlds" add-on - "Curse of Souls" – now available for free +++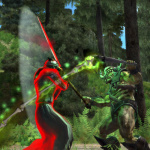 The wonderful world of Antaloor just keeps on growing! The new add-on, "Curse of Souls", means that there are now four totally new Multiplayer maps with around
40 new quests
which will immediately hook you and spirit you away into the fantastic RPG world of "Two Worlds". One of the new RPG missions involves the player forcing his way into a town besieged by the Orcs - then either catching a traitor red-handed, or searching for a powerful Mage who has hidden himself away near Qudinar and is cooperating with a mysterious secret organization.
For those of you who prefer hard action, you'll get plenty in the
PvP mode
, where competing teams have to collect magical spheres and get rid of their opponents at the same time. Whoever gets the most points wins the game! You can download "Curse of Souls" right away - just go to "Updates" on the right of the
Support
section at www.2-worlds.com! The file size varies between just 100 MB (update from Version 1.6) and 1.2 GB (update from Version 1.0).