23. December 2011
"TWO WORLDS II: VELVET EDITION" RELEASED IN NORTH AMERICA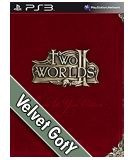 Petaluma, CA, December 20th, 2011– TopWare Interactive today announced the availability of Two Worlds II: Velvet Edition exclusively through TopWare's online store and Amazon.com.  
In addition to the inclusion of the core Two Worlds II™ game and the expansion Pirates of the Flying Fortress, the Velvet Edition contains a metal decorative pirate pin modeled after reputation badges from the game, two exclusive multiplayer maps, a soundtrack, bonus artwork, a highly detailed world map, and numerous in-game items.
Embossed metal corners resembling antiquated brass anchor the signature velvet game box, which also boasts an engraved Two Worlds II™ logo, making this release a fantastic addition to any game collector's library. 
The red velvet Playstation®3 and Xbox 360® versions are available for $49.99, while the black velvet PC/MAC version is available for $39.99.  Additionally, a very limited number of Two Worlds II: Royal Editions have been repackaged to include the Pirates of the Flying Fortress expansion alongside the core game, and are priced at $59.99 for Playstation®3 and Xbox 360®, and $49.99 for the PC/MAC. Lastly, complimentary standard shipping is available via Amazon.com through midnight December 25th.
For more information please visit: www.twoworlds2.com
About TopWare Interactive 
TopWare Interactive, headquartered in Karlsruhe, Germany, is an international interactive entertainment software company. Founded in 1991, the company develops, publishes, and distributes interactive software on most current gen gaming platforms including PC, MAC, Xbox 360®, PlayStation®3, and Wii™. A privately held company, TopWare is the first German based company appointed as a licensed worldwide publisher for both Microsoft and Sony for their respective platforms, and has additional offices in Las Vegas, Nevada and Petaluma, California.

For additional information, please visit TopWare's website: www.topware.com or contact pr@topware.com
Microsoft, Xbox, Xbox 360, Xbox LIVE, and the Xbox logos are trademarks of the Microsoft group of companies and are used under license from Microsoft.
PlayStation® and PS3™ are registered trademarks of Sony Computer Entertainment Inc. All other trademarks are property of their respective owners.